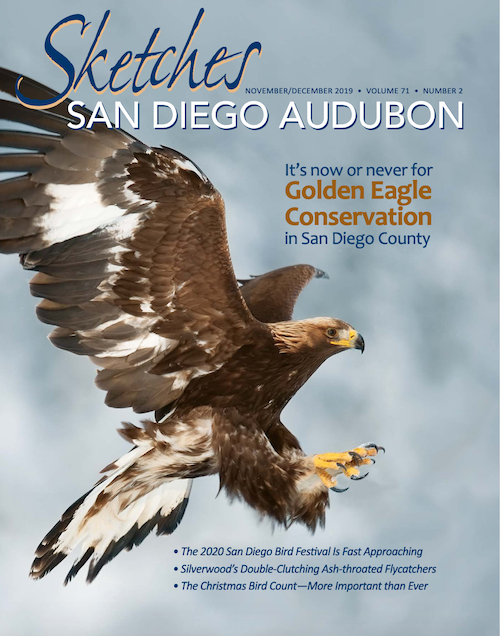 Exciting news - Kelly Quigley, contributor to our monthly newsletter, Sketches, has received first place in the Wildlife and Nature Category of the San Diego Press Club's Annual Excellence in Journalism Award, for her article "It's Now or Never for Golden Eagle Conservation in San Diego County," which was published in the November/December 2019 issue. Read the full article here. 
The article focuses on the ongoing threats that Golden Eagles face throughout San Diego County such as habitat loss, human encroachment onto nesting and foraging territory, electrocution and poisoning. All of these pressures have resulted in a local population of Golden Eagles that has declined by 50% (or more) in the last century. Fortunately, San Diego Audubon Advocates and our partners are stepping up to protect the remaining nesting territories, such as the Bandy Canyon nest site that has been used by breeding Golden Eagles since the late 1880s. Find out more about this work by clicking here.
A huge thank you to Kelly, as well as all of of the contributors and editors that make Sketches an award winning, informative and beautiful publication.