Nature Discovery Workshops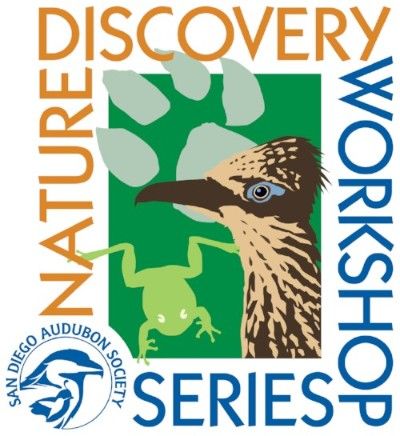 The 5th year of our popular Nature Discovery Workshop Series is about to take flight, and we have some exciting courses in the wings. Whether you are interested in birds, community science, or the history of our local wildlife spaces, we've got something for everyone. Our workshops strive to inspire wildlife enthusiasts like you by offering a variety of nature-based courses that explore locations throughout the county. 
Bird ID for Beginners - How to Become a Birdwatcher
An Interactive Two Session Workshop: Saturday March 14, 2020 9:30 am - 12:30 pm at Lakeside Community Center, 9841 Vine Street Lakeside, CA 92040 and Saturday March 21, 2020 9:00 am - 12:00 pm at Silverwood Wildlife Sanctuary, 13003 Wildcat Canyon Road, Lakeside CA, 92040 
Led by Dr. Matthew Binns, this two session course is designed to help beginner birders gain new skills. The first session will focus on the basics of birding as participants learn to identify common characteristics, discover helpful technology resources, and receive tips on choosing the best tools for birding. The second session will be a guided walk on the trails of Silverwood focused on learning to identify local species and providing tips for birding around the county. 
Cost: Students and Limited Income: $60, San Diego Audubon Friends: $85, General Public: $105
Additional workshop topics being planned:
Connecting with Nature Through Technology: a collaborative workshop with the NAT
History of Mission Bay
Questions? contact Education Manager, Hayley Heiner at heiner@sandiegoaudubon.org.
Cancellation Policy: If you cannot attend a workshop that you registered for, a full refund is available if you provide notice 48 hours prior to the workshop start date. To obtain a refund, please email heiner@sandiegoaudubon.org.