San Diego Audubon Society's Conservation Program focuses on protecting endangered species and the places that they rely on. This includes habitat management (including coastal dune and salt marsh restoration), supporting species recovery with community science programs, participating in conservation planning and environmental advocacy projects, and creating opportunities for the public to learn about, engage with, and actively protect wildlife.
San Diego is one of the most biodiverse counties in the United States. Its mild Mediterranean climate and varied topography create a number of distinct habitats, including beaches, salt marshes and lagoons, coastal sage scrub, grasslands, chaparral, oak woodlands, riparian, mixed conifer forests, freshwater marshes and meadows, vernal pools, and desert. This biodiversity extends to birds, with some people dubbing San Diego as one of America's "Birdiest" counties. With all of this biodiversity, our county has been described by scientists as a conservation "hotspot" because of the large number of threatened and endangered species that reside here. 
The current work of the conservation program includes three main projects: ReWild Mission Bay, adaptive management of coastal dune habitat (in protection of California Least Tern nesting sites and space for an endangered coastal dune plant, the Nuttall's Lotus), and advocacy work.
Other current conservation projects include coastal sage scrub restoration in South San Diego Bay (find out about upcoming work events here), upland restoration work at the Kendall-Frost Marsh Reserve/Northern Wildlife Preserve, and high tide monitoring counts of the endangered Light-footed Ridgway's Rail (formerly Light-footed Clapper Rail) at multiple locations. 
ReWild Mission Bay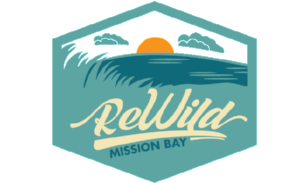 ReWild Mission Bay is a project of San Diego Audubon to enhance and restore up to 240 acres of estuarine habitat in the northeast corner of Mission Bay, with expanded opportunities for compatible community access. Restoring wetlands in Mission Bay has been an initiative of the City of San Diego for decades, and we have taken the first step big step with the completion of the ReWild Mission Bay Feasibility Study, and a 12-page summary of the study. With enormous input and effort by our communities and consultants, San Diego Audubon developed three viable alternatives for community-informed wetland restoration. Now, we all have to work with the City of San Diego to ensure the wetland restoration happens!
California Least Terns (Sterna antillarum browni)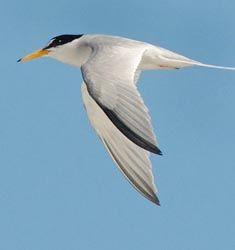 The California Least Tern is an endangered migratory shorebird that nests on the beach in San Diego (and all along the California coast) from April through September. The CA Least Tern needs mostly open, flat, sandy areas for nesting (although they do like a bit of cover from our native plants) and they depend on estuaries, lagoons, and nearshore open water for hunting small fish. Terns nest in colonies, which helps the small birds work together to defend nests and chicks from predators such as American Crows, gulls, raptors and snakes. San Diego County supports 60% of the breeding population of this bird at 12 sites including the Tijuana Estuary, the Sweetwater Marsh National Wildlife Refuge, Mission Bay, and our coastal lagoons. 
Visit our Save the Endangered California Least Tern page for information on how to get involved. 
Fun Fact: California Least Terns defend their nesting colony against predators by flying up into the air, calling loudly, and pooping on their target! 
Advocacy
The SDAS Conservation Committee is an active group of volunteers who are involved in taking action on many local, state, or federal issues that affect our wildlife communities including wind energy, wetland protection, climate change, wastewater/stormwater issues, and urban habitat protection. Committee members write comment letters on environmental documents, speak at City Council hearings, provide advice and/or support on policy issues, and more. This group meets on the fourth Tuesday of the month from 6:30 – 8:30pm at the SDAS offices. The meetings are open to the public and are a great way to gain valuable insight into bigger-picture issues impacting our region. Contact conservation@sandiegoaudubon.org for more information and to get involved!