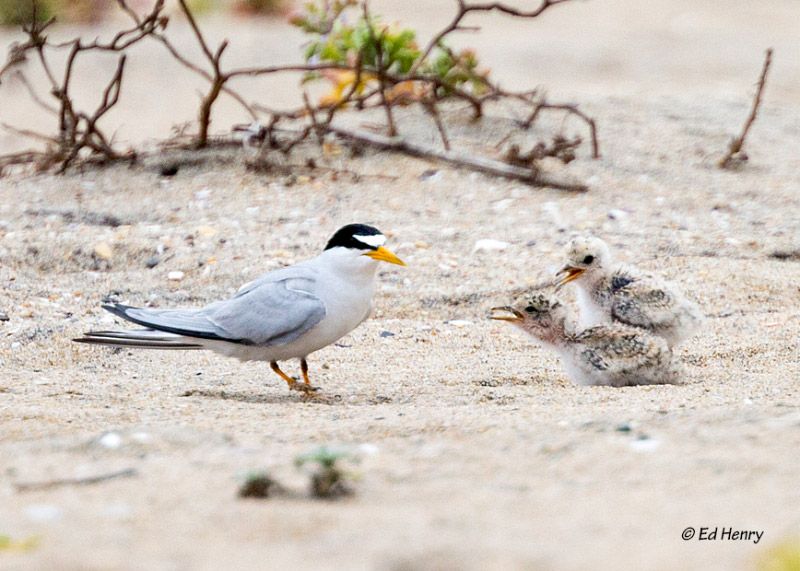 All this week we've been celebrating Endangered Species Day by highlighting five local birds that benefit from federal Endangered Species Act (ESA) protections. So far we've featured the Ridgway's Rail, Least Bell's Vireo, Western Snowy Plover, and in a dual entry, the Bald Eagle and Golden Eagle. Today's species is near and dear to our hearts at San Diego Audubon – the California Least Tern.
At less than nine inches from beak to tail feather, the California Least Terns (Sterna antillarum browni) are one of the smallest species of tern. They also have the unfortunate distinction of being one of the first species officially listed under the Endangered Species Act in 1973.
As migratory seabirds, they spend their winters off the Pacific Coast of Central and South America, before migrating to the coasts of Baja and California in April. Here they find coastal dunes to nest on, which is why their eggs and chicks are perfectly sand-colored. Much like the Western Snowy Plover, this nesting behavior puts their young at risk as humans continue to develop our coastlines, and as unaware beach-goers unintentionally disturb and impact nests.
San Diego Audubon has been actively working to restore, protect, and advocate for California Least Tern nesting habitat in Mission Bay for several decades, removing thousands of pounds of non-native vegetation, maintaining fences and interpretive signage, and educating local communities about the need to respect off-limits nesting areas. Every year over 1,000 volunteers help make this work possible.
Help this Bird: California Least Terns nest on sandy preserves in our county, and you can help by saying thanks to your elected officials for prioritizing space for these endangered seabirds. Keep any eye out for any ground-nesting birds when you visit coastal areas, and please let us know if you spot a Least Tern in a non-designated area. We're also working to protect eel grass habitat along our coastline, which provide essential nursery habitat for the small fish that Least Terns need to feed their young.
Also, our San Diego City Councilmembers would appreciate hearing from you about your support for the city's Parks and Recreation Department in these final days ahead of the Fiscal Year 2021 budget rollout.
Fun Fact: San Diego County supports 60 percent of the breeding population of this bird at 12 sites, including the Tijuana Estuary, Sweetwater Marsh National Wildlife Refuge, Mission Bay, and our coastal lagoons.
Photo by Ed Henry.