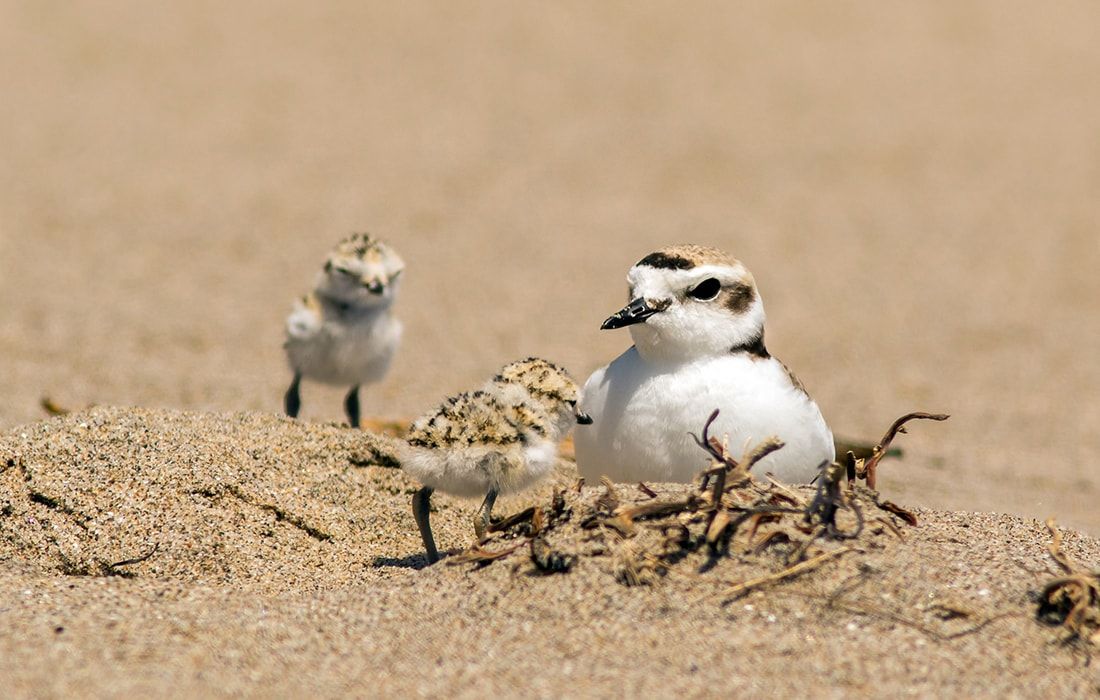 This Friday is Endangered Species Day, and this week San Diego Audubon is highlighting five local endangered birds that benefit from protections extended by the 1973 Endangered Species Act (ESA). In many cases, these endangered birds have seen their numbers rebound and populations saved as the result of the ESA which, unfortunately, has been subject to a number of recent enforcement rollbacks. So far we've featured the Ridgways Rail, Least Bell's Vireo, and Golden Eagle.
Today, we spotlight one of the most endangered west coast shorebirds, the Western Snowy Plover, a small, six-inch bird with a sand-colored back, white belly, and black beak. Western Snowy Plovers typically nest directly on sandy beaches, and their preferred natural habitats are the flat, open shorelines and dunes of the Pacific coast, as well as the beaches of our local bays, lagoons, and river mouths.
Locally, some of the best places to view the Western Snowy Plover are San Elijo Lagoon Ecological Reserve in Encinitas, along the Silver Strand State Beach south of Coronado, and nearby the Tijuana River. As humans continue to build up to the waterline and further isolate habitat, these scattered areas of preserved beach and upland areas have become even more critical for the survival of this species.
Warmer ocean waters and non-native beach grasses also jeopardize the survival of the Western Snowy Plover, but the primary culprit may be your own two feet, and the beachgoing habits of your neighbors. Nesting season for the Western Snowy Plover corresponds with the height of summer when humans are on the beach, putting these already delicate birds under further stress.
Plovers lay their eggs in shallow depressions with loose sand and little cover. As a result, eggs are naturally threatened by high tides and weather, but it's the impact of humans on the beach walking, running, playing sports, and even driving off-road vehicles that does the most damage. Adult plovers will abandon their nests for lengthy periods if disturbed.
San Diego Audubon has enlisted the help of local students to create plover awareness signs which are posted at the Silver Strand State Beach. Learn more about our Sharing our Shores program here.
Help This Bird: The U.S. Fish and Wildlife Service first listed the Western Snowy Plover as endangered in 1993, and while only about 500 of the birds remain between Los Angeles and the border with Mexico, that number would surely be less without ESA protections. Do your part and clean up trash and beach litter, keep your dogs leashed, and respect fences and signs to help ensure the survival of this little bird.
Fun Fact: Western Snowy Plover nests are called "scrapes." Male plovers press their chest into the sand and use their legs to scrape out a bowl shaped-depression, which are then lined with small pieces of shells, pebbles, kelp, driftwood, and other beach debris.
Photo by Mick Thompson.