Love Your Wetlands Partner Event: Friends of Rose Creek Native Plant Garden Work Party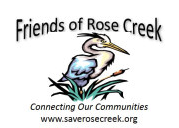 Our partners and ReWild Mission Bay Coalition members, Friends of Rose Creek, are hosting a native plant gardening event on Saturday, February 13th.
They will be maintaining the Nature School's native plant interpretive garden located behind the Rose Creek Cottage. Enjoy weeding, watering, removing invasive non-native plants and trash, and planting native species, and get involved with your creek and your community. Easy one to two hours project – great for children of all ages.
The event will be limited to ten people or less, with masks and social distancing protocols required. RSVP by contacting Karin Zirk.