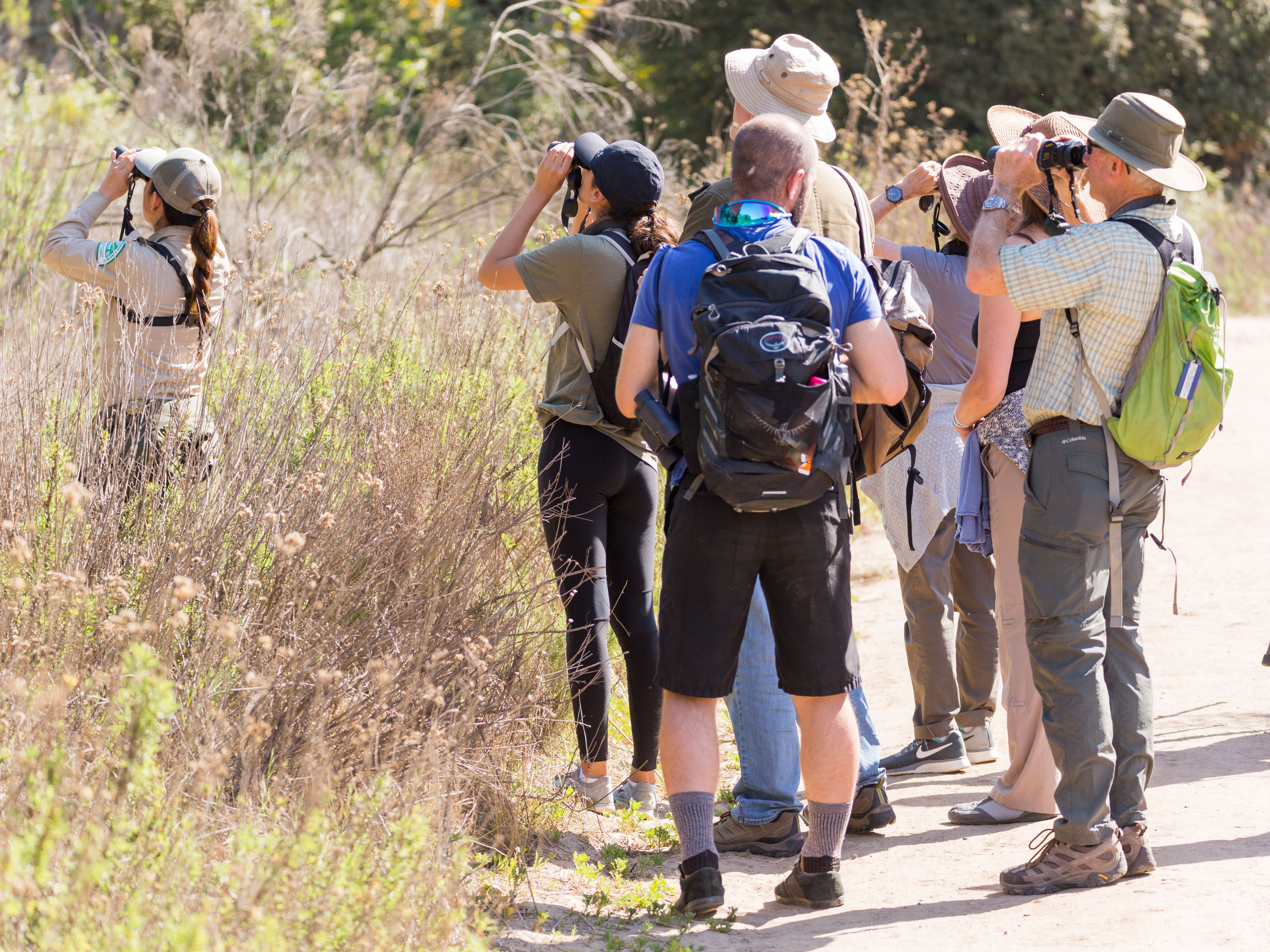 Nurture your love and knowledge of birds with a beginner's birding class designed to connect you with the birding community and improve your skills in bird identification. We will spend quality time observing and discussing birds and their behavior, to build your understanding of the sights, sounds, behaviors, and natural history of a selection of our feathered friends.
This is a five-week class which will be divided into two sections: online on Thursday evenings and in-person field trips on Sundays. During the online sessions we will discuss everything you'll need to know about the locations of upcoming field trips as well as the species we will be trying to spot.
In the first class, we'll talk about why we bird, and get into the tools and skills birders use to collect observations. In each subsequent class, we'll talk about the places we'll go, the species we'll see, and why birds want to be there. Each participant will receive an optional "ID assignment" to perform in the field. Then everyone will pool their knowledge and observations in field trips. We'll employ all of our senses to experience and record the birds in our midst, trying out methods on our phones, our notepads, our sketchbooks, and our memories. In the end, you'll have about 100 new birds in your brain.
We hope that in this class you'll connect with nature and birds, with yourself, and with other birders. We welcome a diverse learning community. Let us know if you have access challenges and need assistance.
Binoculars are encouraged but we can start you with a loaner pair, and you should definitely have a notebook, and a smartphone if you use one. Carpooling will be encouraged, especially when the trips are not bike/transit-friendly.
Recording of the first session via Zoom will be available to class participants for a limited period of time.
Instructor: Jen Hajj and field trip leaders
Schedule of the Thursday Zoom Sessions:
Sept 15, 2022 6:30-8:30 pm
Sept 22, 2022 6:30-7:30 pm
Sept 29, 2022 6:30-7:30 pm
Oct 6, 2022 6:30-7:30 pm
Oct 13, 2022 6:30-7:30 pm
Oct 20, 2022 6:30-7:30 pm
Schedule of the Field Trip Sessions:
Sept 25, 2022 8-10 am
Oct 2, 2022 8-10 am
Oct 9, 2022 8-10 am
Oct 16, 2022 8-10 am
Oct 23, 2022 8-10 am
Limited to 16 participants.
To attend the entire course: $135 for SDAS members, $160 for non-members.
Questions can be sent to the course facilitator, Jen Hajj, at hajj@sandiegoaudubon.org.
Registration opens on Sept 1st, 2022. TO REGISTER: Go to the calendar item on the first date (Sept 15) and register. You'll receive an email with a link to make an online payment.