Our coalition of seabird and ocean advocates is growing, and getting things done.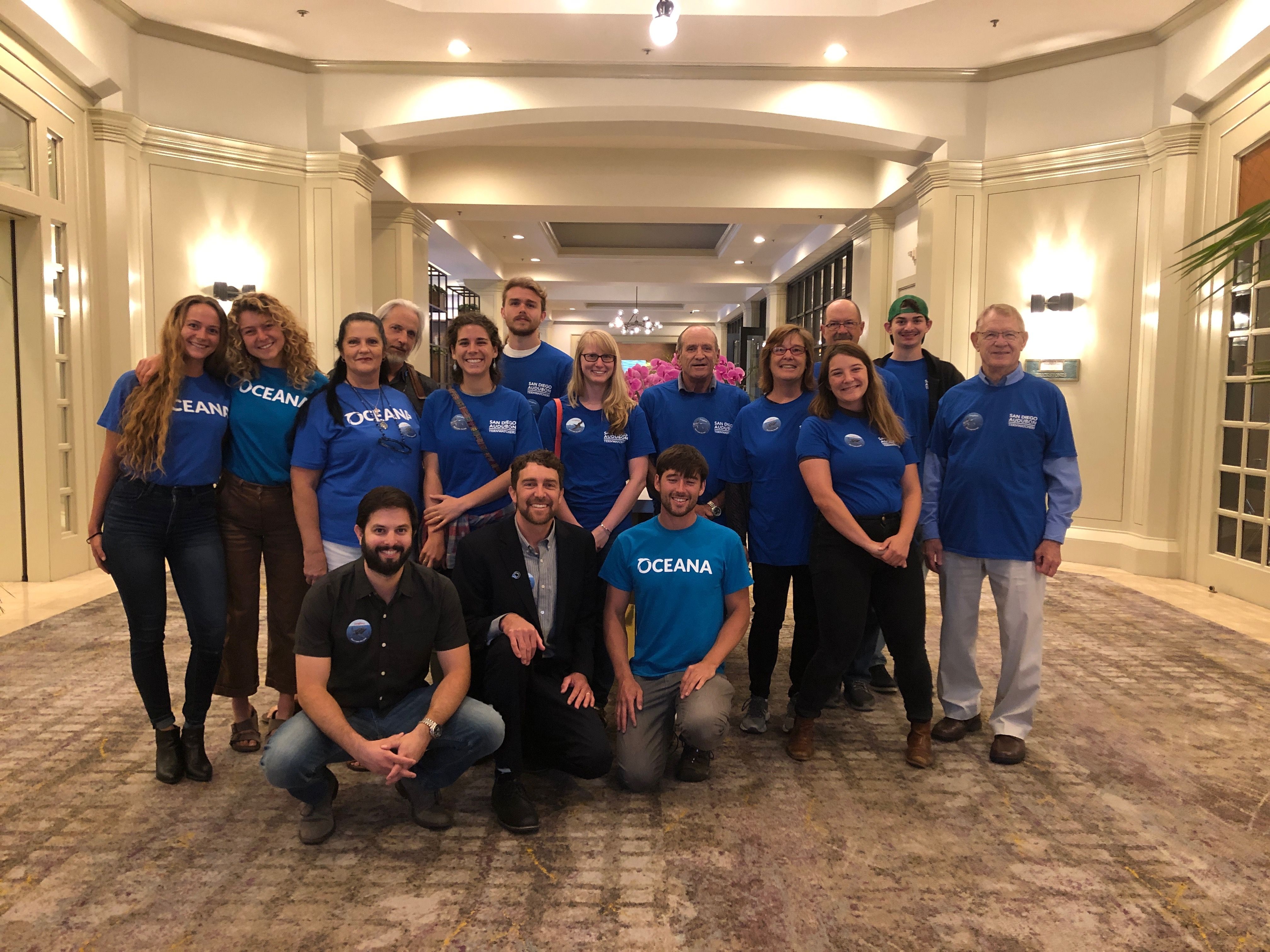 Volunteers Show Up Big to Support Seabirds
By: Megan Flaherty, Restoration Program Manager
San Diego Audubon staff and volunteers made a show of force for seabirds at the recent meeting of the Pacific Fishery Management Council (PFMC), thefederal body that oversees fisheries management on the West Coast. Dressed in bright blue TernWatcher t-shirts and sporting stickers that read "Don't Take the Bait," attendees advocated for more up-to-date management of northern anchovy, the primary food source of the endangered California Least Tern, and pushed back against a proposed expansion of pelagic ("open ocean")longline fisheries along our coast. 
As the primary food source for the endangered California Least Tern, northern anchovy stocks play an important role in determining nesting and fledging success rates for this declining seabird. The northern anchovy stock has experienced sharp declines over the last several years, and this is exacerbated by increasing water temperatures, which affect nutrient cycling, currents, and other oceanic conditions that influence anchovy spawning. This decline appears to be taking its toll on nesting Least Terns, many of whom have to resort to less nutritionally valuable food sources, which results in fewer and less well-fed chicks. 
For decades northern anchovy has been managed within the confines of a one-size-fits-all "Monitored" category, which uses static catch limits that remain the same from year to year. This fails to take into account the drastic fluctuations in anchovy stock size that can occur annually, making it easier to accidentally overfish the stock. It also does not ensure that enough anchovy is left behind for the marine predators that rely on this food source. 
We teamed up with the San Diego Zoo's Institute for Conservation Research to share our concerns with the PFMC, providing information about the importance of a resilient anchovy stock to nesting Least Terns. Our presentation resulted in lively discussion and multiple questions, a sure sign that our ideas were being heeded by the Council. We are happy to report that the Council voted to eliminate the Monitored management category, and will instead manage each species within this category individually. This is an important first step in creating dynamic annual catch limits for anchovy that better protect marine predators like the Least Tern.
Our volunteers also made their opposition clear regarding a proposed longline fishery off of the West Coast, one of the deadliest types of fishing gear for seabirds. Longline fisheries employ up to 40 miles of fishing line and 1,800 hooks, often left unattended at sea for days at a time, resulting in extremely high levels of accidental bycatch. Because of this, they have been banned in California waters since 1989. 
The still active pelagic longline fleet in Hawaii serves as an example of the true cost of this fishing strategy – each year nearly half of its catch is discarded, including sea turtles, marine mammals, sharks, large fish such as marlin, and a diversity of seabirds. Since 2007, this tallies up to more than 133,000 sharks and rays, nearly 200 endangered sea turtles, and over 750 endangered seabirds such as Black-footed and Laysan Albatross. 
After thirty years of prohibition in our waters, the proposal to create new pelagic longline fisheries along the West Coast poses an unnecessary risk to our wildlife. This is especially true considering the development of new and more sustainable gear which can replace these wasteful fishing methods. Deep set buoy lines sink more quickly into the water column, limiting the window of time that seabirds are most prone to getting caught. The use of this gear has already reduced albatross bycatch significantly in many fisheries, proving that there are more sustainable alternatives that will allow fishermen to continue to provide us with healthy, local seafood. 
Public opposition to these proposed longlines was palpable, and we had nearly a dozen volunteers speak out on our behalf. We were joined by members of Audubon CA, Sea and Sage Audubon, Oceana and Earth Justice, who also voiced their concerns. Our public comments appeared to get the Council's attention, but we won't know if they are moving forward on the proposed longline fisheries for several months. 
We are thankful for the hard work of all of our volunteers and partners in supporting seabirds and the marine resources that they need to survive, and we will continue to let our supporters know about upcoming opportunities to get involved.