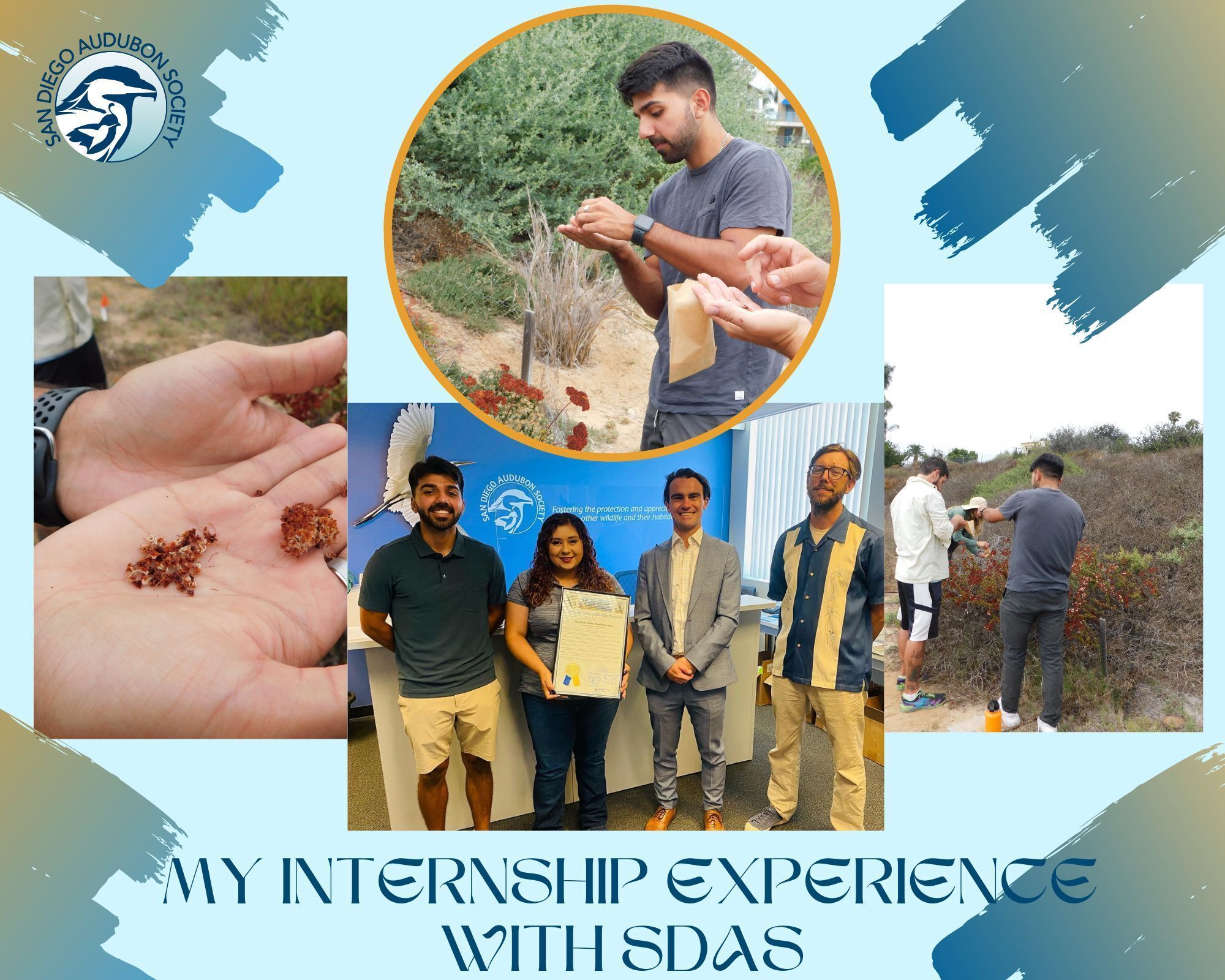 Nick Segovia is currently a student at the University of San Diego. Below he shares his experience interning with the San Diego Audubon Society:

"As an Environmental Studies and Political Science major at the University of San Diego, a career in advocacy has always been a strong option for me—this summer, I was lucky enough to test the waters of advocacy by interning with the San Diego Audubon Society. I worked with their growing Native Seed Library Program, with initial goals to establish more seed libraries in San Diego communities and advocate for native plant proclamations and resolutions.
Some tasks I completed included helping the seed library team establish new libraries in cities like Carlsbad and Chula Vista, which expanded the areas in which native seeds are available to the public. Using ArcGIS Online, I created a map showing the ecoregions of San Diego County and the plants one may find in each—this map can help the public and the seed library team identify where certain plants can grow successfully. I then wrote a guide on how to pass native plant proclamations in local communities, highlighting successful proclamations in San Diego, Chula Vista, Imperial Beach, and Otay Valley Regional Park. I wrote the guide with hopes that it will be used as a public resource, used by future advocates to achieve governmental support for native plants in their communities—to do so, I incorporated the skills I learned from the Audubon Advocates Training program.

Without the trainings I've had this summer through the Audubon Advocates Training program, it would've been difficult for me to have completed the tasks I did. Hearing from advocacy experts like Pat Libby, author of The Empowered Citizens Guide, other colleagues from USD's Changemaker Hub, and environmental professionals in government gave me the background knowledge and technical skills to successfully advocate for positive environmental change in San Diego.
I hope to continue applying the advocacy skills I learned this summer throughout my senior year at USD, first by establishing a native seed library on campus and calling for a greater presence of native plants on campus. Native plants offer many benefits for native wildlife and for people in local San Diego communities, and I'm glad I was able to learn and share knowledge about these benefits this summer."