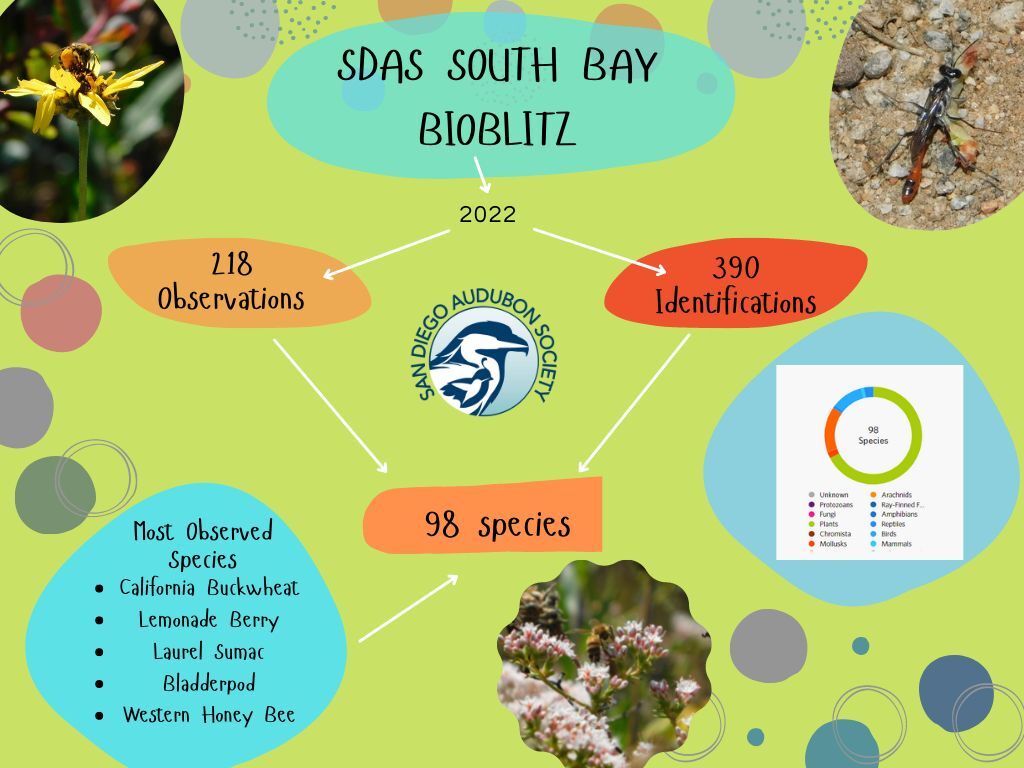 Thank you to everyone that particiapted in the City Nature Challenge! 
Volunteers joined our staff at several locations in South Bay, including Grand Caribe Shoreline Park, Emory Cove along the Silver Strand, and the Tijuana Slough Wildlife Refuge. We have been restoring habitat here in partnership with the US Fish and Wildlife Service and the Port of San Diego, so this was a great opportunity to explore how the birds and pollinators are responding to these efforts.
We recorded a total of 218 observations, with 98 species identified. The most common species seen were California Buckwheat, an important coastal sage scrub plant species, Lemonade Berry, Laurel Sumac, Bladderpod, and non-native Western Honey Bee. We also recorded native pollinators such as the Yellow-faced Bumblee Bee, Monarch butterflies and Tarantula-hawk Wasps. Birds seen were Song Sparrow, Brown Pelican, Anna's Hummingbird, and CA Towhee and a few species of gulls.
San Diego County represented well, with a total of 924 participants, 21,009 observations and 2,644 individual species! San Diego County had the 5th most research grade observations (accurate observations) globally.
In total, 67,220 people participated around the globe, observing 1,694,877 species. Thanks to all that joined the count, and stay tuned for next year's BioBlitz!