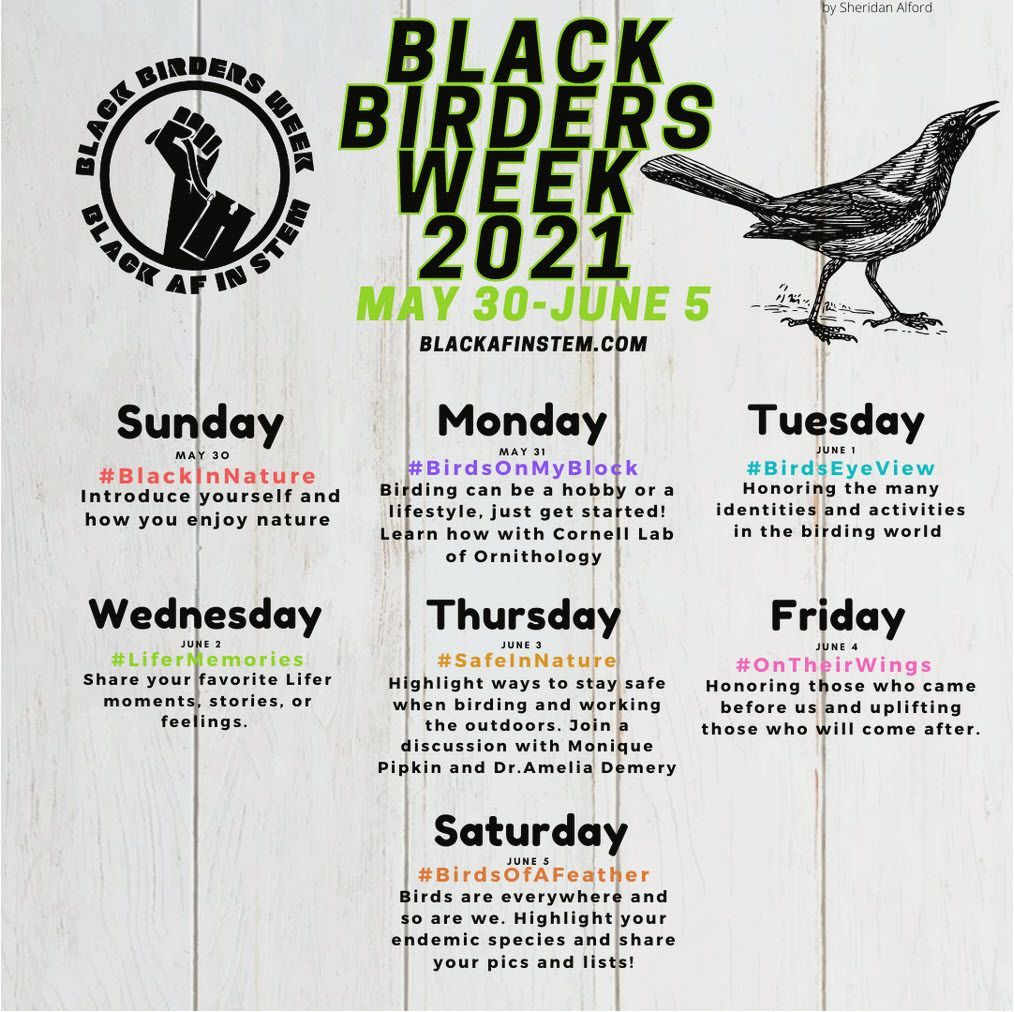 In 2020, an incident in Manhattan went viral. Christian Cooper, a Black man, was in Central Park to watch birds. He asked a white woman to put her dog on a leash per park rules. She responded by calling the police, claiming that he was threatening her life.  That same day, in an unrelated incident in Minneapolis, George Floyd was killed by police officer Derek Chauvin, sparking nationwide tension and demonstrations protesting police brutality against Black Americans.  With these incidents as a backdrop, Black Birders Week was created. Black Birders Week is a week-long series of events to highlight Black nature enthusiasts and to increase the visibility of Black Birders. 
Black Birders face unique challenges and dangers when engaging in outdoor activities, including underrepresentation and racism. But just as Nature is diverse, so are the people who enjoy it. Conversations have begun with hopes of shaping a more diverse future for birding, conservation, and the natural sciences.
This year, Black Birders Week runs May 30 through June 5. 
Here is the lineup of events.  We've included links to these in our events calendar. Click through the links to register for each individual event.  This is an event that takes place in social media, so it is a little bit different from events that you may be used to.  Follow these accounts to participate in the activities in the schedule: 
Twitter  https://twitter.com/BlackAFinSTEM
Instagram   https://www.instagram.com/blackafinstem/
Facebook  https://www.facebook.com/BlackAFinSTEM/
Here is the link to the full schedule, which will be updated as we get closer to the event.
https://blackafinstem.squarespace.com/bbw2021schedule
Sunday May 30 – #BlackInNature
Highlighting the #BlackInNature community with prompts to share stories, favorite spots and activities, and what being in nature means to you.  Plus, the opening of a giveaway of Alice + Whittles footwear (to be decided at the end of week with two winners), and the first daily giveaway of the official BBW21 x Bird Collective t-shirt.
Monday May 31 – #BirdsOnMyBlock
Birds on My Block Webinar Birding is a hobby anyone can engage with at any level. With the Cornell Lab and highlighting tools like Merlin and eBird, BAFiS members demonstrate how to utilize these apps and resources so everyone can get outside and go birding. We also want to see what you're seeing outside! Use the hashtag and tag BAFiS in your tweets and pictures.  Second BBW21 x Bird Collective shirt giveaway and Cornell Lab course giveaway.
Tuesday June 1 – #BirdsEyeView
In celebration of Pride Month in June, the organizers are honoring and highlighting LGBTQIA+ birders. Showcasing the diversity of who a birder can be and what a birder can do, we are also having short Q&A livestreams with special guests from different parts of the birding world. Later there is a longer session with falconer Rodney Stotts, subject of the film The Falconer for which we'll be having a watch party sometime after the stream. Register for Falconry Event  Third BBW21 x Bird Collective t-shirt giveaway.
Wednesday June 2 – #LiferMemories
Share your best or favorite lifer memories, or if you're new to birding, learn what a "lifer" or "life list" is. Go virtual birdwatching with Black birders and Monterey Bay Aquarium. Play a birding-themed trivia game with the community!  Wednesday's giveaways are the fourth BBW21 x Bird Collective t-shirt, the Wingspan board game, and a Bird Collective Lifer Journal.
Thursday June 3 – #SafeInNature
Being safe while enjoying your favorite outdoor activities is important. Join us in collaboration with NWF's Safe Spaces Initiative for a livestream discussion with Monique Pipkin and Dr. Amelia Juilete on fieldwork safety. We will also be asking you to share your strategies and ideas, and create a summary document of what we've learned and gathered, in conjunction with other information from NWF's past Safe Space livestreams.  Fifth BBW21 x Bird Collective giveaway.
Friday June 4 – #OnTheirWings
Bridging the gap between the past, present, and future. Introducing young up-and-coming birders by featuring them and their profiles. Share your own or a young birder in your life with the hashtag. Later in the day, attend a storyteller event with Black naturalists, historians, and nature lovers who paved the way for us today.  Coloring pages made by Black artists will be available for everyone on the BAFiS website (and possibly some partner ones). Sixth BBW21 x Bird Collective t-shirt giveaway, as well as a birdhouse kit for kids.
Saturday June 5 – #BirdsOfAFeather
With eBird, we invite you to try to make a list of the birds you're seeing today. We hope to see checklists from as many states and countries as possible. If you don't see anything, that's OK! You can still submit an empty list, and we're going to be accepting a link to or screenshot of your list for this day's giveaway. There will be a short IG live with BAFiS members going out birding and a livestream with Jerome Ford, assistant director of Migratory Birds at FWS.  Your list entry will be for giveaways of Cornell courses, Vortex, and FWS swag. The final BBW21 x Bird Collective t-shirt giveaway is today, as well as the announcement of the two winners of the Alice + Whittles boot giveaway.
Help Black Birders overcome barriers to participation
We've compiled a list of web pages that may be useful to you if you would like to get involved. There are several BIPOC-led initiatives working to support BIPOC birders in their communities:
https://rodneysraptors.webs.com/
https://www.blackadventurecrew.com/
https://linkin.bio/birdersfund
San Diego Audubon is eager to join the conversation. We know that there are issues in representation, and hope that our future programs provide safe spaces for recreation for all people. We also understand how critically important it is for these programs to come from the community.  If you are a BIPOC birder or nature lover who is interested in helping create outdoor recreation opportunities for the BIPOC community of San Diego, please contact us.