Become a Friend of San Diego Audubon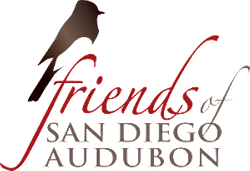 San Diego Audubon is a regional leader in the protection of birds, wildlife, and their habitats. If you share our desire to protect local habitats and safeguard San Diego as a beautiful place for both people and wildlife, we invite you to become a Friend of San Diego Audubon.
Whether you make a yearly or monthly commitment, your generosity will protect birds, other wildlife, and their habitats in the San Diego Region.
Friends of San Diego Audubon membership benefits include:
In addition to knowing you are making a difference for our region's natural world, benefits of being a Friend include:
Early bird registration to the annual San Diego Bird Festival
Subscription to our beautiful member magazine, Sketches (4 quarterly issues per year)
Members-only days at our nature sanctuaries
10% discount on San Diego Audubon merchandise
Members-only discounts on educational workshops about birds and native plants
Choose from two ways to become a Friends Member:
1. Monthly Giving: To become a Sustaining Friend to San Diego Audubon, please click the button below. The Sustaining Friends gift option allows you to make monthly recurring gifts through automatic credit card donations while providing San Diego Audubon with reliable and consistent support. A recurring monthly gift of $5 or more entitles you to all the benefits of Friends membership.
2. Annual Friends membership: Click the button below to sign up for an annual donation. We ask for a minimum annual contribution of $40 for our Friends membership. You can join for one year, or set your membership to auto-renew each year in the online form to save time. If you would like to give a gift membership, please fill out the form with the recipient's information, except for the payment information.
If you would prefer to donate via check, please mail it to our office at:
4010 Morena Blvd., Ste. 100,
San Diego, CA 92117
Please indicate "Membership" on the memo line.
We appreciate your support!